CENTENNIAL, Colo. — Greg Glischinski and his wife, Sheri, have lived in their two-story brick and wood Colonial-style house for more than three decades. The retirees, both in their 60s, want to stay where they are for the rest of their lives.
But their house has no bedroom or full bathroom on the first floor. It is on a cul-de-sac, and public transportation options are limited. As they grow older, the Glischinskis may need in-home assistance with tasks like bathing, dressing and preparing meals — an expensive proposition.
"It's a huge problem for boomers," said Greg Glischinski, 66. "Quite frankly, I don't know what we're going to do."
Turns out the kids who listened to rock 'n' roll on their transistor radios and watched spellbound as men walked on the moon — the first American generation raised in the suburbs — want to grow old there.
In fact, the American suburbs, built for returning GIs and their burgeoning families, are already aging. In 1950, only 7.4 percent of suburban residents were 65 and older. By 2014, it was 14.5 percent. It will rise dramatically in the coming decades, with the graying of 75.4 million baby boomers mostly living in suburbia.
But car-centric suburban neighborhoods with multilevel homes and scarce sidewalks are a poor match for people who can't climb stairs or drive a car.
"Most
[boomers] are in a state of denial about what really is possible and what's reasonable for them as they age," said John Feather, a gerontologist and the CEO of Grantmakers in Aging, a national association of foundations for seniors.
Mildred Warner, professor of city and regional planning at Cornell University, said too many Americans are "living in a Peter Pan world." People become "more feeble" as they age, she said, and communities need to plan and budget for that.
But state and local officials are largely unprepared to handle heightened demands for transportation, affordable housing and long-term care. One study estimated that spending on public transit would have to increase 81 percent, to $8.6 billion, by 2030 to meet the needs of seniors who want to stay in their homes.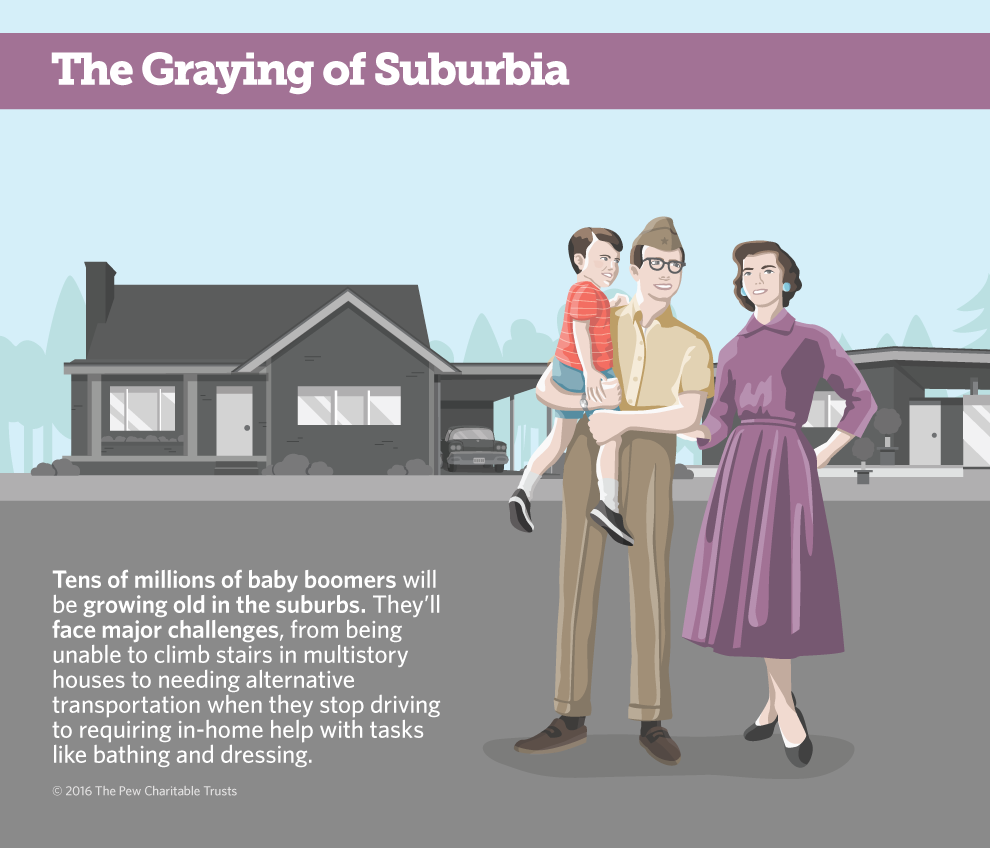 Some researchers foresee conflicts between seniors and families with school-age children over increasingly scarce government resources. Many working- and middle-class retirees, some of whom are trapped in their suburban homes because they are still underwater — they owe more on their mortgages than their homes are worth — won't be able to afford to modify them to make them livable in old age. Some live in areas where the cost of renting or buying elsewhere would be higher than what they already pay. And subsidized housing for seniors is in short supply in the suburbs.
"The graying of suburbia is going to become the central challenge of the country and the suburbs," said Lawrence Levy, executive dean of the National Center for Suburban Studies at Hofstra University in Hempstead, New York. "Most suburbs are not ready. They don't have the resources, experience or ability to deal with these big issues."
Boomers in the Burbs
This year, the oldest boomers started turning 70. The youngest will be 52. By 2035, there will be 77 million Americans aged 65 and over, up from about 48 million in 2015.
Nearly two-thirds of boomers in metropolitan areas lived in the suburbs in 2014, and most want to age there, according to national surveys.
Demographers agree that as people age, they tend to stay where they are. "Older people don't move that much," said William Frey, demographer and senior fellow at the Brookings Institution's Metropolitan Policy Program.